Terra Cotta Ramona Round Planters – a set of three, with ledge style rims, simple and clean design and natural colors (traditional for terra cotta). Every having its own drainage spots so over-saturation towards the plant roots may not occur. Being made out of terra cotta under high temperature and being hand-gazed one by one, these planters are resistant to any frost and could be used either indoor or outdoor. We assure you if having any visitors at home they will feel the warm presence of these planters immediately.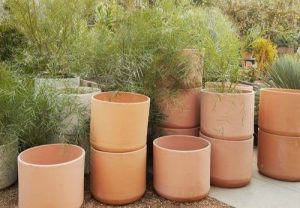 Dimensions: 16.14 diam. x 13.39H inches; 12.6 diam. x 9.84H inches; and 20.08 diam. x 16.14H inches. The whole set is weighing approximately 86 pounds. The benefits of the Terra Cotta are many. Terra cotta translated from Italian means baked earth. That is ceramic which is unglazed and is based from clay. In historical plan the terra cotta were used to make the famous Terracotta Warrior statues in China for example. As a building material it finds many uses nowadays mainly in the roof areas and in gardens. It is the favorite material for gardeners when planting plants. Not only terra cotta is cheap and durable material but also versatile. You don't have to worry about the excessive and abundant moisture in some of your plants since the terra cotta material allows moisture to vaporize through and pass through it. The terra cotta also allows gas to permeate which helps the healthy growth of your plants.
The iron oxide in the clay makes it look brownish orange. The terra cotta is perfect choice for your garden, it is lighter than other items made of stonework Campania International is established over 25 years ago. For that time it managed to gain reputation for offering the most quality and original products. Along with the terra cotta planters our company started researching and developing new design of case stone garden ornaments and planters. The Nina Studio Inc. was founded in 1987 with the goal to produce and design original pieces that could later be manufactured. Through the late 80s and 90s the Nina Studio`s Campania continued it's prosperity. Campania is wholesaler and importer of other garden products such as the polyethylene terra cotta which are glazed pottery casted in iron.