Spring Bulbs 3 packs for £5
David's Nurseries
David's Nurseries is a part of the Home and Garden group. David's is based in Worcester and has all your gardening needs. We aim to be the 'Gardeners Garden Centre', providing great value gardening.
PLANT OF THE WEEK: RHODODENDRON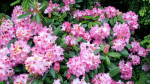 The shadiest corner of your garden becomes the highlight of your spring display when you plant a rhododendron – probably the most brilliantly-coloured of all the early-flowering shrubs with masses of sumptuous blooms in every hue from deepest scarlet to magenta pink.
All varieties of rhododendron like a moist, acidic soil and dappled shade, where they'll make a sizeable and very showy shrub in time. If space is limited, or you garden on neutral or chalky soil, don't worry: you can still enjoy rhodies. Just choose a compact variety bred to thrive in containers filled with ericaceous (acidic) compost for an equally spectacular display each spring.
GROWING FROM CUTTINGS

Cuttings fall into three main groups, but whichever method you use it is essential that cuttings are taken from healthy plants:
hardwood
softwood
semi-ripe
HARDWOOD CUTTIN…
Read more
Open the vents
When the sun comes out now, a greenhouse can heat up rapidly. To ensure that young plants and seedlings (or even plants that are overwintering in the greenhouse) don't overheat, it's a good idea to open the vent in the morning and close it up again at night. This also applies to any plants growing in a conservatory.
Weather forecast
Current weather
Clear
6°C
Forecast Sat
Sunny
Forecast Sun
Sunny